positive elearning: a fresh approach to optimal performance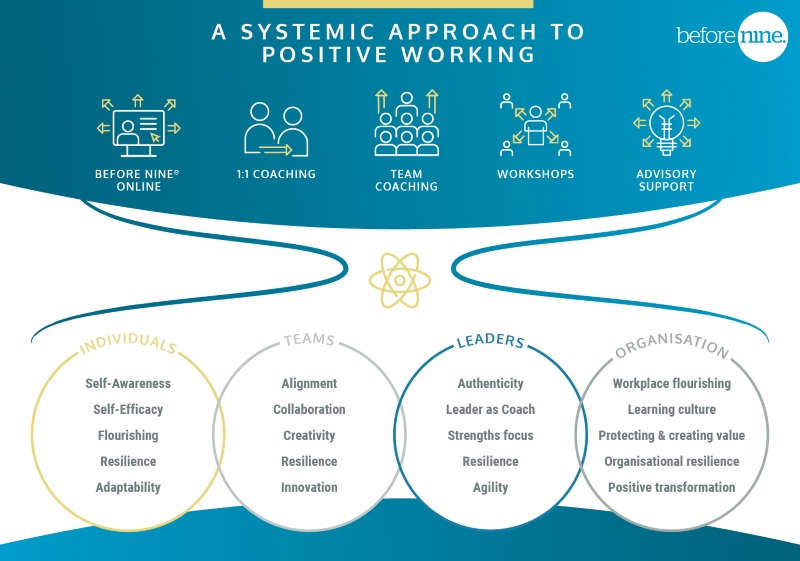 During the pandemic and beyond, before nine's clients are achieving amazing results.
How?...
By investing in their people's wellbeing, resilience and optimal performance. Applying a Positive Working perspective to whatever changes, challenges and opportunities each new day brings.
But, today's blended working models mean that confining professional development to the classroom is no longer a practical - or equitable - L&D model.
Now, before nine's most popular resilience foundation course is available to roll out to your people in interactive, bite-sized, on-demand learning modules.
Offering people, teams and leaders the opportunity to craft a self-tailored resilience toolkit as a key step in your Positive Working development journey.
 Delivered in an engaging, flexible format that learners can access with ease.
Ensuring that every member of your team has equal access to wellbeing and resilience development – whether they are office based, field based or working remotely.
Showing colleagues that your approach to learning and development reflects their working environment, whilst also respecting their time and work-life balance.
Positioning your organisation to attract, retain and develop the talent you need.
before nine® online equips your people to:
Cultivate an understanding of the ingredients that sustain optimal performance in the workplace.
Apply their learning to real-life organisational situations straight away.
Travel a structured learning and development pathway from the same foundational level.
Access the same elearning opportunities, regardless of the different environments and cultures they may be operating within.  
No matter where they are – no matter how they're working. No matter what surprises the future brings.