a positive business perspective for an uncertain future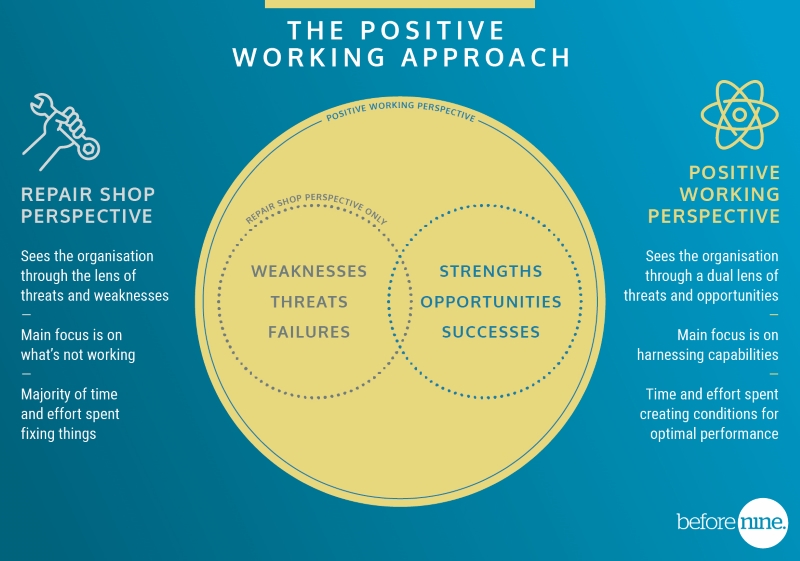 The science of Positive Organising focuses on what is good and beneficial, rather than what is problematic.
When we focus exclusively on what is wrong, we adopt a "repair" shop mentality - spending time and energy fixing problems retrospectively.
These are precious resources that should be spent harnessing the human talent and capabilities that drive organisational capability, resilience and transformation.
It's this logic that drives everything before nine does. And it works.
Positive Working has given our clients the agility to adapt, innovate and blossom in adversity – most recently during the COVID-19 pandemic. And, moving forwards, it is giving them the capability to learn from their lived experiences and position themselves to embrace tomorrow's opportunities.
That's not to say that we ignore the negatives. In work, as in life, positive and negative are two sides of the same coin. Both offer us the opportunity to learn, grow and collectively move forward.
Recognising this duality equips you to enable your people's ongoing optimal performance by creating a psychologically safe environment, where both threats and opportunities, failures and successes are recognised as being pathways to transformation.
Our values are rooted in five key principles:
HUMANITY
We treat you as the human beings you are, not by your job title.
---
EQUITY
Whether we're working with front-line staff or in the Board room, we ensure that everyone has the same opportunities to develop, based on their specific needs.
---
BOUNDLESSNESS
We believe in your potential for growth and change. We are bold and daring in our vision for what you can achieve, even when times feel impossibly tough.
---
EMPATHY
We use our personal journeys, life experiences and professional expertise to walk in your shoes.
---
DUALITY
We are realistic about the realities of life and being human. We embrace both the positive and the negative as a learning journey.
---
Does all of this resonate? Let's talk...